Our Location
Rowden Atelier sits deep in South West England, at the heart of the North Devon UNESCO Biosphere Reserve. We have Dartmoor National Park to the south and the Atlantic Ocean to the west. We are amongst some of the UK's most wild landscapes.
Ours is an inspirational environment. We encourage our students to take time to surf, hike and explore the hills, forests and ocean around us. On site, Rowden has green spaces, orchards and a natural lake, where we gather, reflect, sketch, or listen and let our imaginations run.
The Workshop
The various workshops at Rowden are intentionally separate, each arranged to encourage focus and flow. If machines are thrumming next door or by your bench, you cannot expect full concentration and immersion in your work.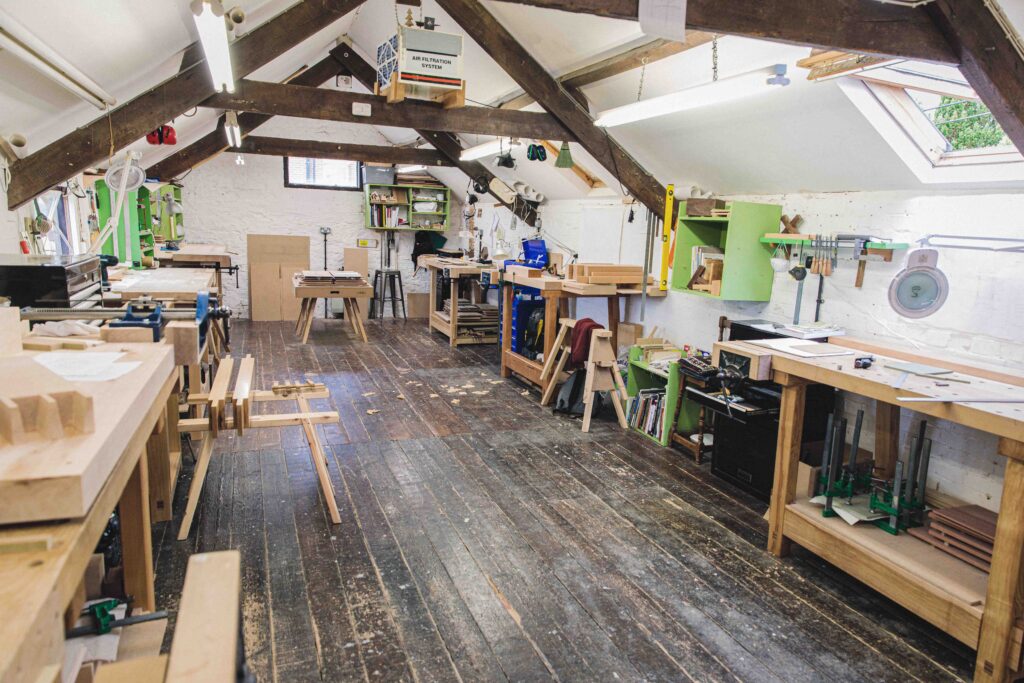 BENCH ROOMS
Our main 2,700sqft workshop is a converted barn, split into four bench rooms. We've centred each bench room around the use of hand tools, construction, and the finishing of detailed work. Students will spend time in each of these four spaces as they progress through the coursework. This space is the beating heart of Rowden, that beat defined by saw stroke and mallet strike.
MACHINE ROOM
The 2,400sqft machine room is set apart and houses our table saws, bandsaw, thicknesser, the jointer and a host of other professional grade tools. Machines are vital in the fine woodworker's tool kit, and their safe use is paramount at Rowden.
Students are more likely to have experience with machines than hand tools. Regardless, all students need dedicated training with these tools, to reach the standards associated with Rowden trained furniture makers. We show students how to achieve the same level of precision with machines as with hand tools, generally meaning 0.25mm tolerance – often less.
Art Studio
Sketching, artistic and technical drawing are all vital components of the Rowden curriculum. We explore these skills in our dedicated Art Studio. It is also the space in which we gather for our daily lectures and CAD work. 
The importance of all of these skills for the 21st-century cabinetmaker, cannot be overstated. We have seen time and again, the correlation between these skills being put into practice, and a student's increased capacity to conceive attractive, expressive fine furniture.
Post Graduate POD
We focus on getting students ready to hit the ground running. For many, that means setting up independently as a fine furniture maker, engaging with clients and creating bespoke commissions. Our POD is a shared studio space, available for students who want to start as makers, with the benefit of the Rowden facilities and tuition team on hand. It is a space between the course and the wider world. As well as using the facilities on hand, postgraduate students can continue to attend daily lectures, should they wish.
On Site Living
For a small number of students, we can provide a simple living space on-site for the duration of a course, including two hookups for campervans. It is a very cost-effective way of relocating to Devon and critical for some to study at Rowden. Facilities include a shared kitchen, shower, washing and drying machines. There are various gardens and outdoor spaces that we encourage the use of in good weather (or bad if you wish..).
Contact
To find out more about the courses, our intake dates and discuss joining us, please contact us through the form below.